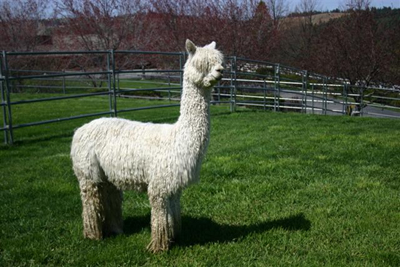 Biosecurity
All visiting females will be quarantined from Alpaca Rose Ranch's herd, and housed with other visiting females for the duration of their stay.

In order to protect your female and minimize the risk of spreading infectious diseases Alpaca Rose Ranch requires the following health documents from a licensed veterinarian. Any female arriving without the required health papers will be refused.

State required certificate of health papers (dated within 30 days of arrival)
Fecal exam indicating that the alpaca is free from all internal parasites including coccidia. (dated within 30 days of arrival)
Indication that your alpaca has received a worming treatment within 30 days of arrival.
Negative PCR test for BVD. (dated within 30 days of arrival)


Your understanding and compliance with our biosecurity measures will provide peace of mind for all of us. You can expect your female to return bred to the herdsire you chose, healthy, and confirmed pregnant.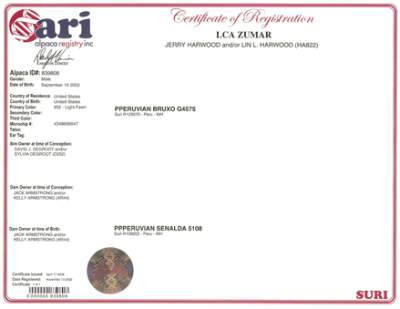 Pedigree -

Sire

Dam

Name:

BRUXO
3P SENALDA

ARI#:

Heritage:

Full Accoyo
Full Peruvian

Color:

Histogram:

19.8 @ 2 YR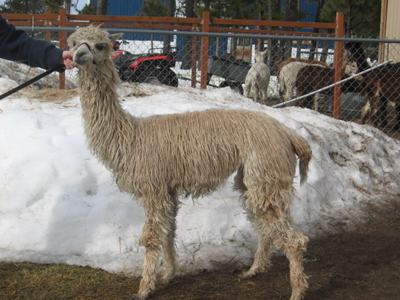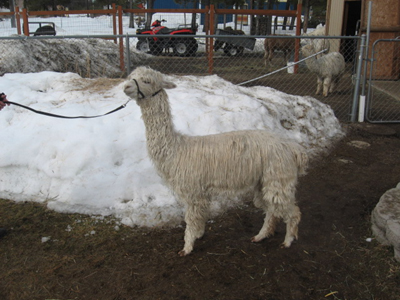 LCA Zumar
ARI# 839808

Color: White

Origin: Full Peruvian & 1/2 Accoyo

DOB:

09/19/02
Zumar would make his dad proud, the image of his dad. Zumar carries a very fine, dense and lustrous fleece over a well balance, and heavily boned frame..
Every great herdsire produces a few son's that are better then their sire. Quality runs deep in this incredible male. Zumar's full sister Akuti is one of the most highly prized foundation dams. His two year old histogram was an outstanding 19.8 micron. An impact male like Zumar is an absolute must for any suri breeding program that is serious about breeding improvement.
one of Zumar's Baby's