Alpaca Rose Ebony

ARI# 31153935
DOB: June/17/2008
Color: Bay Black
Origin: Bolivian/Peruvian/Chile
If you are looking for black and the future of your herd you should take a look at this female. She has above average luster for a black and great lock and density. She has that great MacGyver looking head and some of the best bloodlines in the US. On the sire side of bloodlines you have Captain Morgan,DDF Peruvian MacGyver, PPeruvian Bruxo. On the Dam side we have WWR Prince Greystone.

She should be able to throw grey breed to the right male. Ebony has a great personality and she is easy to handle on a halter. The most impressive thing about Ebony to me is her lock and her head. She is going to make a great foundation female for years to come. I will have more photo's of her soon.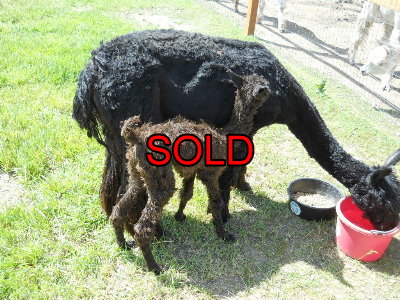 Ebony 1st cria is a girl with a black head and Dark rose grey body. Stop by and take a look if you are looking for color alpacas.