Alpaca Rose Rocky Road
Sex: Male
ARI# 31943871
View ARI Certificate
DOB: 8/16/2011
Color: Light Fawn
Origin: Full Peruvian
Breed: Suri
Status: UnProven
This male Sire is LCA Quechua and he has great bloodlines with Snowman Ice Dancer, Snowmass Ivory Gold, and PPeruvian Uribe on top and his dam is Alpaca Rose Ava, on the dam side we have Captain Wasabi as sire along with Captain Morgan and Macgyver. Ava Dam is Snowmass Adriana who's sire is Silver Alliance. This male is going to throw color and a great shot at throwing gray.
In his 1st show at PNAA he took 1st place and reserve color championship. The judge comments on the Color Champ and Rocky were, if their is any Suri buyers in the stands that they needed to find these two males and see what a tight and luster alpaca is to be. I hope you can make time to check our our upcoming herdsires. We have been in business for 8 years and the 2010 male cria' are the first males that I believe I feel good in selling to any breeder. I also believe that any buyer should check out what the breeder is selling you. Hope you can check them out

If you are a new breeder or someone just getting started you need to take a look at this male. I bought his sire Quechua for one reason. Quechua fleece did not cot up when I opened his fleece up. He had two years of fleece on and when I open it up their was great lust and lock and it folded back up with no clotting.

We have not sheared Rocky and plan on showing him in the 2012 show season.

Alpaca Rose Rocky Road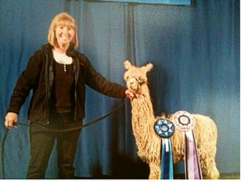 | | |
| --- | --- |
| | SHOW RECORD |
| | 1st PNAA Showcase 2011 |
| | Reserve Color Champion PNAA Showcase 2011 |
| | 1st PNAA Showcase 2012 |
| | |
| | |