Type: Male Suri
Status: Unproven

Birth Date: 6/19/2010
Heritage: Full Peruvian

Registration: Unregistered
Color: Medium Brown
You can see from the photo's this male is worth more than 2500 dollars but with the way alpaca sales are going we have to move alpaca's at what the folks are willing to pay. If you are looking to the future and don't have a lot of money to spend and want to improve your herd then I hope you take a look at this male. He has great conformation, lock and density and is going to help someone out in improving their bloodlines. Hope to hear from you.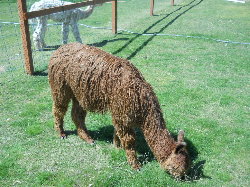 Alpaca Rose Nugget
2 hours old